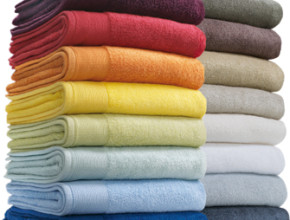 This little backpacking essential is one of the most forgotten things to pack.
Basically, whilst backpacking you will need a towel, be it for after a shower (after a hot sweaty day in the sun), perhaps to give you something to lie on whilst on the beach, or even as a makeshift pillow!
Wherever you decide to lay your head whilst travelling you may not always have the luxury of being provided with a towel.  Therefore, it is recommended you buy a travel towel to take with you.
Key things to consider in a travel towel are:
Weight (You will have to carry it around)
Size (It will take up space in your bag – but the towel also has to be big enough to clean your bits!)
Price (Price is always a consideration for us backpackers)
Material (You want something comfortable, but also a towel that dries quickly)
Five top travel towels for backpacking/camping in 2016:
Key Features:
Well it is lightweight and compact – which is essential for your backpack! Even though the large towel is a huge 30 x 60″! Both towels fold away nicely into the mesh and nylon carry bag measuring 8 x 8″.
Fast drying! Essential for when you need to quickly need to move on to your next location – you can actually wring it dry to 90% dryness.
It is hygienic! It is made from a antimicrobial fabric – which means it avoids that nasty wet towel smell!
It is easily cleaned – just wash it by hand with boiling water, and don't worry, it doesn't fade.
It comes free with  a separate face towel, which also makes a great towel to step on outside of the shower.
---
Key features are:

Light! – It only weighs 8oz, saves your delicate back.
Soft – Made of 100% Micro-Fiber, it can also hold up to 4X its weight in water!
Dries fast! = Up to 10 times faster than normal terry cloth or cotton towels.
Handy mesh carry bag with useful hanging loop! – easy and convenient packing and drying!
Three sizes to choose from! – We recommend the 28″ by 56″.
---
Key Features:
FREE matching hand towel: 24″ x 15″
Both towels together WEIGHS JUST 8 oz!
Comes with a BREATHABLE WATERPROOF BAG for packing which features a CORNER ZIP POCKET for valuables and cell phone – HANGING LOOP for drying (Very useful!)
Gentle on the skin – Luxurious Super Soft suede like feel of lightweight fabric
FAST DRYING – less than half the time of a normal towel –
ANTIBACTERIAL microfiber that prevents odour and germs.
---
Key Features:
Premium Microfiber – blissfully soft fabric is sueded for super absorbency. It feels awesome next to your skin!
Loaded with Luxurious Details – Comes in rich, vibrant colors (So you can easily identify your towel and stand out!), Have contrast-stitch trim for a posh, polished look and Feature elegant embossed logos.
Convenient loop for easy hanging on a bathroom or locker hook, for quicker drying.
Huge size at 60″ X 28″, yet only weighs a mere 8 oz, and it rolls down to a compact 8″ X 3″ size.
Comes with Hand Towel & Storage Bag which can be easily hung off your backpack.
---
Key Features:
Amazing value: Includes 3 convenient towel sizes-

Extra Large bath size towel perfect for the beach or lake,

Large size that is lightweight and perfect for trekking or camping

Small size that you can use as a face towel, or to step on out of the shower!

SUPER ABSORBENT: These towels can hold 3-4x their weight in water.
ULTRA COMPACT: Each size comes with a compact mesh carrying case. 
Made of 100% microfiber material dries 10x faster than cotton or terry cloth.
Each towel is equipped with snap loops used to hang towels for quick drying.

---
So as you can see, there is a great deal of choice, but we believe we have narrowed it down to the perfect 5 towels for backpacking, camping, living!
We hope we have helped you out, now here is a relevant quote from the hitchhikers guide, explaining the importance of a towel, enjoy:
A towel, [The Hitchhiker's Guide to the Galaxy] says, is about the most massively useful thing an interstellar hitchhiker can have. Partly it has great practical value. You can wrap it around you for warmth as you bound across the cold moons of Jaglan Beta; you can lie on it on the brilliant marble-sanded beaches of Santraginus V, inhaling the heady sea vapors; you can sleep under it beneath the stars which shine so redly on the desert world of Kakrafoon; use it to sail a miniraft down the slow heavy River Moth; wet it for use in hand-to-hand-combat; wrap it round your head to ward off noxious fumes or avoid the gaze of the Ravenous Bugblatter Beast of Traal (such a mind-boggingly stupid animal, it assumes that if you can't see it, it can't see you); you can wave your towel in emergencies as a distress signal, and of course dry yourself off with it if it still seems to be clean enough.
― Douglas Adams, The Hitchhiker's Guide to the Galaxy