This backpacking essential is often one of the most forgotten things to pack.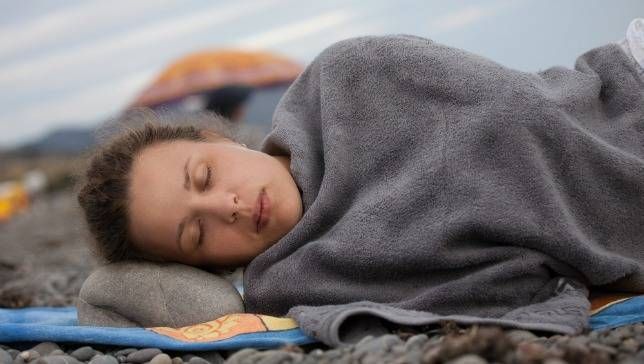 Basically, whilst backpacking you will need to sleep, and nothing gives you a better, more comfortable sleep, than sleep with a comfy pillow.  Thats why a travel pillow is the perfect extra essential you should all pack.
It can be used to sleep on a bus, a train, a plane, wherever! You can even use them just when you are relaxing on the beach, to support your head whilst reading a good book.
For only a little bit of money it is well worth investing in one of these essentials, to make your backpacking and camping experiences that bit more comfortable and enjoyable.
Key things to consider in a travel pillow are:
Weight (You will have to carry it around)
Size (It will take up space in your bag – but the pillow also has to be big enough to support your beautiful head!)
Price (Price is always a consideration for us backpackers)
Material (You want something comfortable, that wont irratate your face)
Five top travel pillows for backpacking/camping in 2016
Why did we pick this one?

#1 SELLING TRAVEL PILLOW on amazon in the U.K, GERMANY & JAPAN with over 9,000 genuine product reviews worldwide on Amazon.

WINNER OF THE BRITISH INVENTION OF THE YEAR 2013

A "MUST HAVE" FOR TRAVEL – this pillow actually helps you get some sleep on cramped planes, trains, buses or cars. 
EASY TO CARRY – use the handy snap-loop fastener to attach to your backpack externally. The pillow can also be squeezed down to be more compact than most "U" shaped pillows, so it doesnt take up too much precious backpack space.
ULTRA HYGENIC – The whole pillow can be washed, not just the cover. Just pop the whole pillow in the washing machine on a warm wash and your pillow will come out as new! Choose your support too! – Tumble dry on low heat for softer support or air dry for firmer support.
Key features of this pillow are:

ULTRALIGHT & PACKABLE – Weighing in at just over 4oz. Packs down to 4in x 4in x 3in into it's self-contained stuff sack. 15in x 12in x 4.5in when fully inflated.
SOFT & COMFORTABLE SUPPORT – Features new Soft-Top fabric cover; a super soft cotton fabric with polyester batting for ultimate comfort-without the sweaty head you get from some camping pillows.
INFLATES SUPER FAST – A unique one-way air valve system allows you to inflate in 2-3 breaths. Deflating is just as easy; simply press the inner flap to quickly deflate or adjust the pillows firmness.
REMOVABLE COVER – Easily wash with mild soap and water to freshen up your pillow after travels.
DURABLE YET SOFT – Whether you're leisurely vacationing with your family, camping for the weekend, or backpacking the Rockies – this air travel pillow can keep up.
Why do we recommend this pillow?

Scientifically proven long-haul flight neck support pillow.  Meaning you can handle any long journey.
Unique look – looks cool and will be a good conversation starter.
Holds neck in ergonomic position during rest. Meaning no more neck aches after sleeping on a vehicle.

Better than a traditional u-shaped memory foam travel pillow

Half the size of a travel pillow and weighs only 148 grams – travels easy, wont weigh down your backpack.
Easily attaches to luggage – Can be externally attached to backpack.
So what do we love here?

COMFORTABLE – The inner foam is designed to expand evenly, avoiding the dreaded lumpy feel, and contoured shape means your head and neck are supported, ensuring you WAKE FEELING REFRESHED and ready to go!
PERFECT SIZE – Measuring 20in by 12in when inflated, it is large enough to support your head with ease, helping you to get a good sleep – whether it's climbing the Rockies or simply relaxing on a flight home.
LIGHTWEIGHT, PACKS AWAY SMALL – Less than 5in by 6in when packed and weighing only 10.5oz – SAVE SPACE AND WEIGHT. Comes with tough, drawstring storage bag.
SELF-INFLATING, ADJUSTABLE – Simply unroll, twist open the air value and watch the foam to expand naturally! To increase firmness, blow gently into the air valve. STAYS INFLATED FOR AS LONG AS YOU NEED!
PREMIUM QUALITY – The products are designed to last and last, using only top quality materials and manufacturing processes. Which is why they offer all customers a Boom Dream 100 DAY WARRANTY.
This pillow is a perfect all rounder:

INFLATES WITH A BUTTON- INVENTION OF THE YEAR 2014- Yes! This unique neck pillow inflates with a button – Press repeatedly on the lower profile of the pillow till you reach your expected inflation! To release the air, push double sealed black air valve given on the pillow.
SCIENTIFIC DESIGN- The innovative design will give you utmost comfort by providing a'Raised Neck Support' to hold your head upright and maintain proper neck alignment!
It is manufactured with very soft, micro-velvet fabric that is very light-weight but with intrinsic robust quality. Besides, the cover is removable and washable.
FREE ATTRACTIVE PACK-SACK PROVIDED- After using – you can press the air valve to release the air – fold it & keep it in the beautiful pack-sack provided free of cost!
A VERSATILE MULTI-PURPOSE PRODUCT- Great travel companion with no bulk feel.
So as you can see, there is a great deal of choice, but we believe we have narrowed it down to the perfect 5 travel pillows for backpacking, camping, sleeping, living!
We hope we have made your purchasing decision that bit easier, why not give us your best sleeping tips for backpackers below?
A ruffled mind makes a restless pillow.

-Charlotte Bronte