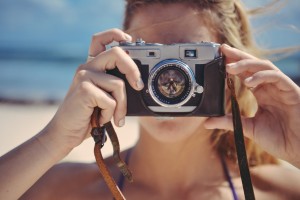 Your brain is pretty good at storing memories, however at some point it starts to get full and you cant remember things just as vividly as you used to, or maybe all the Chang beer is to blame!
Whilst backpacking you will need a camera to share the amazing sights and adventures with your friends and family back home, you will also want crisp beautiful photos to reminisce upon in decades time.  Your iPhone may be good for catching a quick photo here and there but the harsh truth is that mobile phones still aren't at the same level as dedicated cameras (just yet). What you really want is a fully functioned and dedicated camera that you can carry with you all the time to get that perfect shot whilst travelling.
We have gathered together a selection of different cameras based on personal use and public opinion.
Here are our top 5 cameras for backpacking in 2016:
What we like:
We are starting with our favorite travel camera!
Records stunning, immersive 1080p60 and 720p60 video – meaning you can easily make your own travel blog videos.
Captures 8MP single, Time Lapse (Can film a beach in a timelapse to capture the sunset) and Burst photos up to 5 fps
Built-in Wi-Fi and Bluetooth enables connectivity to the GoPro App or Smart Remote to adjust modes and settings, control the camera remotely, and view and share your content.  This the best thing about this – you dont need a PC or laptop to upload, the app works with all major phones and allows you to use your phone as a view finder, editor and uploader. It is really well made.
Durable and Waterproof to 131′ (40m), designed to withstand extreme environments and conditions. Underwater snorkeling photos anyone!?
GoPro – The fact this is a GoPro camera means that there are so many accessories you can get for this, at surprisingly cheap prices.
What we like:
This is our high performing professional option – to be purchased if you are serious about capturing some real high quality images and video for your blog or instagram.
Upload virtually anywhere on your iOS or Android device with free download of the Canon Camera Window app – No middle man PC or Laptop, allowing you to travel lighter.
Capture breathtaking 1080p full HD video capture at 60fps – Premium video which will look great on youtube in HD.
12.1 megapixel high-sensitivity 1/1.7-inch CMOS sensor combined with the Canon DIGIC 6 image processor. Allows outstanding image quality, and high low light performance allowing you to capture natural images without the need for flash.
5x optical zoom (28mm-140mm) and a bright f/1.8(W) – f/2.8(T) lens enables you to capture more in your frame – capture your friend on top of a mountain from far away!
Built-in Wi-Fi technology – wireless image transfer.
Free 32GB Card to capture all your memories with no worries of space.
What we like:
Great little pick up and go camera at a low price – perfect for any nights out with powerful built in flash.
8x Optical Zoom with Optical Image Stabilizer helps you capture images with flexibility and ease – always be able to capture who or what you want from a safe distance.
20.0 Megapixel CCD sensor combines with the DIGIC 4+ Image Processor to help deliver stunning image quality.
720p HD video capabilities – HD video for video blogging whilst away.
Digital IS helps reduce the effect of camera shake and subject movement – no worry of blurry photos whilst riding an elephant!
Scene Modes such as Fisheye Effect, Toy Camera Effect and Monochrome- adds some fun and creative to your photos before uploading.
What we like:
This is our rugged tough choice
5x optical zoom NIKKOR ED wide-angle glass lens (Capture all of the shot in, great for scenery and group shots)
Capable of taking up to 5 shots per second making sure you capture the perfect shot every time.
Built-in Wi-Fi and NFC for easy transfer to your smartphone – cutting out the need for PC and Laptop whilst travellig.
Built-in GPS, mapping, Electronic Compass and Points of Interest (POI) – Will visually plot where your photos have been taken on your trip, allowing you to accurately map your trip!

Tough and versatile!

Waterproof up to 100ft; (Snorkel and pool photos!)
Freezeproof to 14 degrees Fahrenheit; (Don't worry about the weather!)
Shockproof for drops up to 7 feet (No heart drop panic when dropped)
What we like:
This is our point and go choice – It will take much much better photos than your phone along with all the benefits of having an independent camera.
20.1 Megapixel – Beautiful vivid photos.
8x Zoom allowing you to capture all your shots from a safe distance.
Optical Steady Shot image Stabilization – Allowing you to get clear vivid images when partaking in things such as elephant rides or motorcycle rides!
720p MP4 HD Movie Mode – Allows you to document your memories in video which you can then upload and edit as you wish.
Extremely powerful flash, perfect for any caves or nightclubs you end up in!
Sweep panorama mode (360 degrees) – Take amazing panoramic images without the need for any extra software.
Smile Shutter technology captures a smile the moment it happens. Simply press the Smile Shutter button and the camera does the rest.
So there are our favorite cameras you can use to capture the best images possible whilst backpacking and travelling.  Please feel free to share any of your images and view some of our shared images on our instagram.
However, remember this:
"It is more important to click with people than to click the shutter." – 

Alfred Eisenstaedt
Thank you.