Whilst on your travels you will almost certainly need a torch, be it because you're doing a midnight hike, due to a power cut or just as a way to make shadow puppets on the wall –  A flashlight is an essential for any backpackers backpack!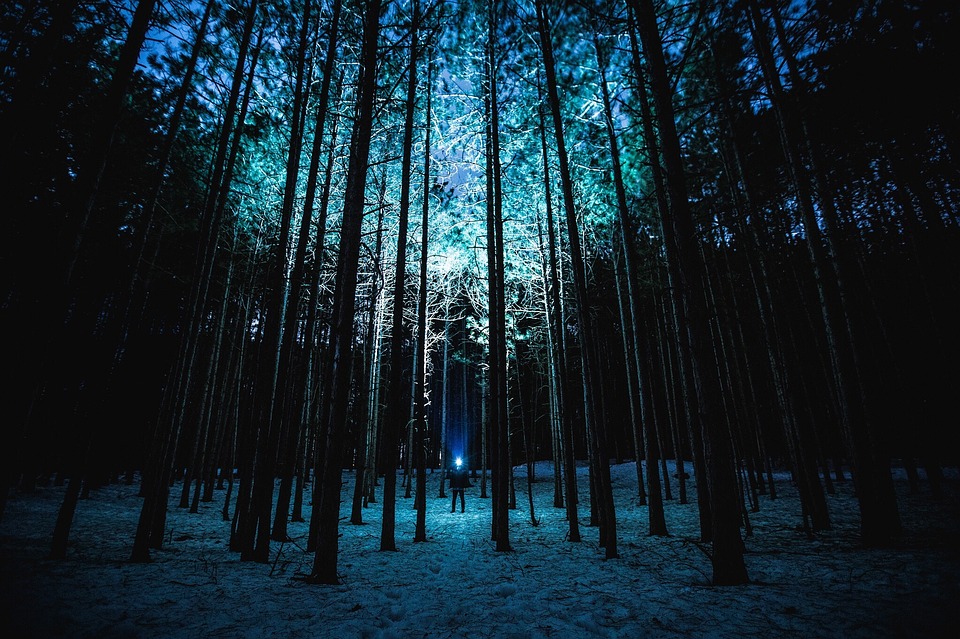 We have searched the internet for the best flashlights for backpacking and camping.
The three most important things to look for in a flashlight / torch are:
Brightness – Will it be able to brighten up even the darkest corners of the world?
Battery – Will it be able to last for as long as you can?
Weight – Will it easily fit into your backpack and not be difficult to carry?
These torches will illuminate your path on any of your adventures.  So fear the dark no more and read on…
The Five Best Torches / Flashlights for Backpacking and Camping
We have started with a great value all rounder here.  If you are after a handheld torch then let us save you some time -this is the way to go.
5 LIGHTING MODES – Depending on your situation you can pick between High/ Medium/ Low/ Strobe/ SOS. Allowing you to customize your torch to fit your needs.
SUPER BRIGHT & ZOOMABLE LED TORCH – This thing is bright and powerful! It has a brightness of over 1000 with a beam reaching a distance of 200-500m. 
POWER SOURCE – Comes with 1 x 18650 Rechargeable Battery or use 3 x AAA Battery.  This torch can be charged directly using the wall charger or by using the battery charger pack. Offers up to 6 hours of light when fully charged and it can be charged up to 1000 Times meaning it will last a very long time.
WATER RESISTANCE & SHOCKPROOF – Made from a strong aluminum alloy material it provides shock-resistance and is waterproof. Also, the lotus head design protect the lens in case of Shatterproof and Scratch Resistance. 
POCKET & COMPACT DESIGN – Perfect for your backpack, only 7.1″ in length with Lanyard.
This is the best headlamp we could find, it offers excellent features for great value.
HANDS FREE,HASSLE FREE – Stop wasting time fiddling with flashlights and buying extra batteries. With Cobiz' rechargeable headlamp, you can have a reliable, hands-free led headlight to brighten up your environment, leaving you free to work, read, and explore whenever and wherever you want.
FOUR MODES FOR INFINITE USES – Whether you prefer to use the lowest, most focused setting,the wider and splashier medium and high modes, or the bright emergency-ready strobe light, this movable LED head light is prepared to adjust to a full range of lighting needs
WATERPROOFED FOR OUTDOOR USED – On the outside, there's a waterproof switch that's safe to use even when it's raining. On the inside, there's high-quality, leakage-resistant, waterproof wiring, there to make sure your light stays on even when that rain is soaking through.  Allowing you to take this to any climate.
FIT FOR THE WHOLE FAMILY – With a little help from the adjustable headband, you should be able to tailor this rechargeable head lamp to pretty much any friend, neighbor, or family member who joins in your outdoor (and indoor!) adventures.
FULL CONTROL – Allows the light to be tilted and adjusted by up to 90 degrees.
This is our budget headlamp – but do not let the budget title but you off, this features excellent features for an amazingly low price.
SUPER BRIGHT CREE-3W LED TECHNOLOGY (60-meter beam) – wide variety of white & red light modes + 90° tiltable body makes this headlight brightest and most versatile in its class. SOS and strobe mode will keep you safe in any situation.
WATERPROOF AND DURABLE – why equip yourself with anything but the best and most reliable headlamp? MX20 is built to last. It is rated to IPX5, which means it is protected against splashing or spraying water from any angle.
LIGHTWEIGHT AND COMFORTABLE – you won't even notice wearing it. Weighing only 3.2 ounces (with batteries) with easily adjustable, ergonomically designed elastic headband makes this light perfect.
SUPER LONG BATTERY LIFE – by using leading CREE – 3W technology MX20 provides more light with less power used, resulting in up to 45 hours of run-time. 3 AAA ENERGIZER batteries included.
100% SATISFACTION, NO QUESTIONS ASKED MONEY BACK GUARANTEE – Foxelli are so confident you will love their headlamp that they offer money back guarantee with complete lifetime warranty.
We love this crank / solar powered flashlight! It means you never have to worry about power.
Here is more detail on what we loved about this flashlight:


NO POWER NEEDED – Emergency flashlight With Built-In Rechargeable battery, store energy in for a long time.
HIGH CONVERSION EFFICIENCY –  Cranking for 6 mins gives an hour light, Ready for the uncertain world.
SOLAR POWERED – If you can not be bothered to crank the flashlight simply let the sun do all the hard work for you.
DESIGNED FOR BACKPACKERS – Size: 124x45x32mm Weight: 86g With A Quick to Use Carabiner Clip, Clip it on your backpack and take it on your adventure.
QUALITY PRODUCT –  40-day Money Back Guarantee & 18 months hassle-free warranty with considerate customer service.
Our final choice is the perfect stocking filler for any camper or backpacker.  It comes with four hand crank torches.
Here is what we liked about this pack:


CRANK POWERED – The Chromo Inc® Immedia-Light provides immediate battery free light with just a few cranks
BACKPACK FRIENDLY – Lightweight design of only 2.4 ounces makes it a breeze for on the go use.  Throw this in your bag and forget about it until you need it.
BRIGHT LIGHT – Immedia-Light supplies bright 3 LED Light
SIMPLE TO USE – Comes with On/Off switch, Crank Lock toggle and a Carry Strap.
PLANET FRIENDLY – Go Green! Environmentally Friendly with no Carbon Footprint. Made from recycled materials.
That concludes our list.  We hope you liked our suggestions, we believe there is the perfect flashlight for any backpacker or camper in that list.
If you have some further suggestions please feel free to comment and share below.
Thank you for your time.
A great man is a torch in the darkness, a beacon in superstition's night, an inspiration and a prophecy.

Robert Green Ingersoll