After a long day exploring, partying or even just relaxing there is nothing better than crawling into your bed at the end of the night.  The life of a backpacker means they will more than likely be sleeping in a different bed every other day, however, there is one constant in the nighttime routine of a backpacker – the sleeping bag!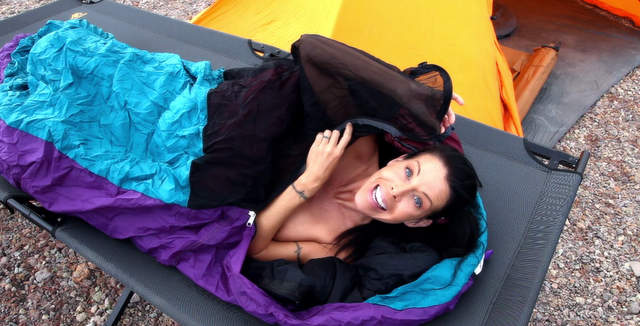 Its hugely important that all you backpackers, travelers and campers out there have the most suited sleeping bag to give you that well earned rest at the end of the day.
Be it a lightweight sleeping bag or a big thick arctic sleeping bag we should have you covered.
We have took all the things important to you into consideration:
Weight
Comfort
Color
Shape
Warmth rating
Breathability
Ease of packing
Durability
Pockets!
You name it, we have it covered, so see below our top 5 sleeping bags for backpacking, traveling and camping in 2016.
TOP 5 SLEEPING BAGS FOR BACKPACKING AND CAMPING
This is our all rounder, perfect for any trip, reliable and lightweight.
EASILY CARRIED: Super lightweight (~1.6lb) and super small when packed with included compression sack.
PERFECT FOR HOT CLIMATES: soft & comfortable compact sleeping bag with comfort temperature rating of 15C / 59F fits Men, Women, Kids up to 5″11.
PACK WITH FUNCTIONAL FEATURES: Unique Built-in pillow case, Anti-snagged zippers, 3 high quality zippers per sleeping bag allows you to open the sleeping bag anyway you want. Extra inner pocket makes sure your personal belongings are safe.
STOP ROLLING OFF SLEEPING PAD: 2 elastic straps on the backside ensures you stay on your sleeping pad the entire night.
MAKE IT A DOUBLE: Perfect for couples, Parents with kids! Buy 2 different color sleeping bags (Must be one color each) and zip them together into a double bag!
This is our premium, perfect all round choice:

LIGHTWEIGHT MUMMY SLEEPING BAG – for all three seasons. Only Weighs 3.5 Pounds make it very lightweight to carry in your backpack and warm enough to withstand from the freezing temperatures.
LOTS OF FEATURES: Compression sack to carry the mummy sleeping bag, Hanging Hook to dry the sleeping bag and one inside pocket to keep your cellphone or wallet
TEMPERATURE RATING 15 Fahrenheit – Stay Cozy during cool camping trips our Aektiv Outdoor Mummy sleeping bag keep you warm without looking bulky. Ideal for all three seasons. The Duck Down Filling keeps you extremely warm at 15 Degree.
EASY TO CARRY IN BACKPACK – The Three season Mummy Sleeping bag compresses to 6X7 Inches which makes it small and easy to carry in your backpack while off exploring the world.
EXTRA SPACE FOOT AREA – provides you extra space to keep your feet stretched.
This is not only a great sleeping bag, it is also perfect for couples!

MAKE IT A DOUBLE: Buy a BLUE (right hand zipper model) and an ORANGE (left hand zipper model) to make it a double sleeping bag! Did you know you can increase the warmth of your bag by 25% by zipping them together?
PERFECT FOR BACKPACKING: With the sleeping bag only weighing 2 lbs 2 oz (compression bag adds 3 oz) and compacting down to 10 x 7 inches (or less), it's the ultimate backpacking sleeping bag!
STAY WARM: This bag is rated down to 35 degrees Fahrenheit and comes equipped with a drawstring to tighten the bag right up around your face! It also has a new hollow filament synthetic fill that provides amazing warmth for its weight!
DURABLE: The OV-Light sleeping bag comes with super durable, reinforced zippers and a state of the art zipper guard!
1 YEAR LIMITED WARRANTY: After you purchase, follow the simple instructions to get your one year limited warranty!
This is our favorite budget sleeping bag, plus it just looks great and quirky!  Check it out on Amazon now!
Three-season sleeping bag perfect for camping, hiking or indoor use, can keep you comfortable wherever you end up in the world!
Comfortable Temperature Range: 41 – 59 degrees Fahrenheit. Keeps you warm and comfortable at night.

Extremely portable, easy to compress with carry bag that is included.  Saving you extra room in your backpack.

Lightweight –It only weighs 5ibs.  So it won't be weighing you down when on the move.
Right zip open, envelope hood, Ideal size fits most people.  Looks great when opened out as a makeshift blanket to relax on.
Water resistant and ripstop polyester with skin-friendly cotton lining.  Stays dry and safe whatever you throw at it!
Finally we have our favorite, a reliable name you can trust that provides great value whilst not cutting any corners, this is the sleeping bag you want!
Perfect backpacker size: Size 87″ x 32″ x 22″,

Lightweight – Pack Weight 2.9 lbs., 

Pack Size 14.5″ x 6.5″ x 6.5″
Brushed Micro Polyester Lining – Feels nice to touch and reflects moisture.
Mummy hood – Drawstring hood with shoulder baffle keeps out drafts.
Sturdy, water-resistant, diamond ripstop shell
Interior pocket zips to safely hold electronics or wallet
Fits in the lower sleeping bag compartment of most hiking backpacks
Includes 13.5" x 6.75" drawstring stuff sac, to allow you even more space in your bag.
So we hope that you like our selection of sleeping bags and that you have some amazing sleeps in them around the world!
As a little bonus here are the top tips on how to maintain your sleeping bag:
:☞ How to Maintain A Sleeping Bag
Method One of Six: During Camping
1. Keep the sleeping bag dry.
2. Air the bag.
3. Line your sleeping bag with a bed sheet prior to sleeping in it.
4. Store the bag properly.
Method Two of Six: Keeping a Sleeping Bag Clean
1. Store a clean and dry sleeping bag.
2. Follow the instructions.
3. Choose the bath method or the washing machine method.
Method Three of Six: Bath Method
1. Place the sleeping bag in the bath.
2. Hop in! Gently stand in the bath with bare feet to squash the air bubbles down and to force the bag under the water.
3. Wash. Gently move the bag around with your hands to clean.
4. Rinse. Ensure that all the soap suds are removed.
5. Remove. Haul it up from the bath.
Method Four of Six: Washing Machine Method
1. Select the right washing machine.
2. Keep it cool. Use a gentle, cool cycle in a washing machine.
3. Rinse. Include a rinse cycle.
4. Keep it easy.
5. Dry. Follow the "Drying" steps.
Method Five of Six: Drying a Sleeping Bag After Washing
1. Drip dry. Allow bag to drip dry if needed.
2. Use a dryer. Better use a tumble dryer.
3. Place in tumble dryer. Tumble dry at low setting only.
4. Dry outdoors. If you have sunshine, dry the bag outdoors.
Method Six of Six: Storing the Sleeping Bag Long-Term
1. Make sure the bag is dry before storing. Never store a wet sleeping bag.
2. Store in a large stuff sack or hanging up.