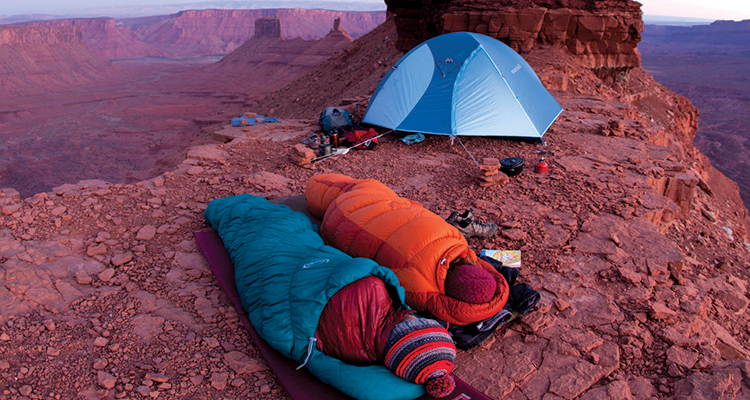 We all love and need a good nights sleep, this isn't more true than when backpacking.
After a hard day trekking, shopping, relaxing or partying there is nothing better than a comfortable bed to get into.  Now we all know a memory foam mattress on a king size bed isn't likely in the hostels that backpackers tend to stay in.  However, with these products they will assist in giving you that better nights sleep, making you that more refreshed and energetic the next day.
Top 5 sleeping bags / accessories for backpacking and camping in 2016:
Good size: Size 87″ x 32″ x 22″,
Light and compact for backpackers: Pack Weight 2.9 lbs., Pack Size 14.5″ x 6.5″ x 6.5″

Brushed Micro Polyester Lining

Reliable: Sturdy, water-resistant, diamond ripstop shell
Keeps your possessions safe: Interior pocket zips to safely hold electronics or wallet
Small: Fits in the lower sleeping bag compartment of most hiking backpacks
Next, a great value for money all rounder:
Backpacker designed: Standard adult sleeping bag designed for size and weight-conscious backpackers
Reliable: 100-percent polyester ripstop linings; double-layer construction
Warm: 700-gram Micro Tekk.7 microfiber insulation; full chest baffle
Light: Draft tube and utility pocket; weighs 2.9 pounds in the stuff sack
Next on to the cheap and cheerful, perfect all rounder!
Good size: Dimensions: (74.8″ (bag) + 11.8″ (hood)) 85″ L x 29.5″ W

Materials: (exterior) Corespun Polyester; (interior) Polyester; (fill) Comfort Loft

Open up to cool down: Full zip open; Wind baffle; Convenient inner pocket;
Easy to pack: Easy to compress; Extremely warm and comfortable

Shape: Envelope with Hood ("Mummy" Bag)

Flexible at different temperatures: Maximum Extreme Comfort Temperature Range: 26-73 ¨H

Here is our favorite travel pillow, stop neck pain with this handy product:
Comfortable: Material: soft and healthful super-thick flocking fabric.
Quick to inflate: Inflation: pinch flat or bite flat the nozzle and blowing it for few seconds.
Quick to pack: pinch flat the nozzle and deflate it with pressing on the table, then you can quickly fold the pillow.
Perfect for backpacks: Superlight and comfortable design.
Flexible: Perfect for outdoor activities, a nap on a beach, plane or wherever.
Perfect alternative for a sleeping bag if you are going to be in a hotter climate:
GENEROUS SPACE: The liner is 105x220cm (41×86″) which gives even tall people space to move around and stretch out the legs. It packs into a practical 16x20cm (6×8″) pocket when not in use.
SOFT AGAINST YOUR SKIN: The travel sheet is made of 100% Polyester with a silky texture which makes it very soft and comfortable against your skin.
KEEPS BOTH YOU AND YOUR SLEEPING BAG CLEAN: The sleeping bag liner has multifunctions as it protects both you and your sleeping bag.. 
SIDE OPENING WITH VELCRO CLOSURE: The liner has a 60cm(23″) opening on one side to make it easy for you to get into. 
So there you have it, our favorite products to give you the best nights sleep possible whilst backpacking.  Please share some of your sleeping suggestions in the comments below.  Sweet dreams!