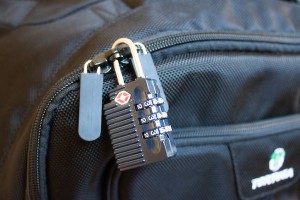 Your backpack is your home, and much in the way you have alarms and locks on your home your backpack should be no different.
Criminals exist everywhere but in many cases just the slightest sight of some type of security on your backpack will deter them.  Here we have our top 5 products you can use to keep you and your backpack safe whilst backpacking / travelling the world!
Now we don't want you to worry, incidents of theft and mugging are much rarer than the media would want you to believe, however a little peace of mind whilst backpacking is always welcome.
Top 5 safety / security products for backpacking in 2016:
Things we like:
Re-settable pass-code – The lock can easily be reset, so it is not the end of the world if someone in a hostel sees you entering your pass-code, you can simply change it in private.
Strong lock, allows you to securely close the zips in your big, stopping people from letting themselves into your bag (We recommend locking your bag even when it is on your back – to stop potential pickpockets)
40 inch flexible, coated steel cable – This cable allows you to secure your backpack to immobile objects, such as a steel bed or table.  This will stop people from being able to physically remove your bag
Things we like: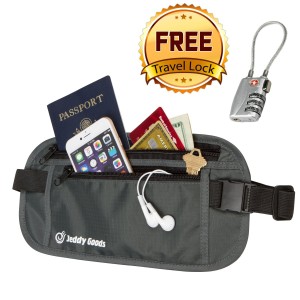 Comfortable and Lightweight – You will forget its there allowing you to enjoy the day.
Easily hidden under your shirt – the travel belt fits snuggly against your body.
8 pockets let you carry a cell phone (even iPhone6), credit cards, cash, keys, chargers and more!
ONE SIZE FITS ALL -the belt comfortably fits XS to XXL waists, with no pinching or pulling your skin
RFID protection keeps your vital info safe and secure
FREE TRAVEL LOCK!! TSA-approved zinc alloy travel lock (valued at $7.99)
Things we like: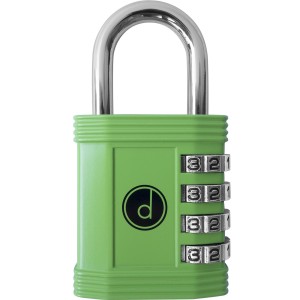 Padlock for locking lockers or hostel doors

Over 10,000 combinations! – and you can choose your own.
Numbers are easy to read, maneuver and set to your own preferred combination.
Select your color – meaning you can have an easily identifiable lock.
Light – weighs 5oz, so easy to carry.
Weatherproof – meaning it will last your entire journey with you.

Things we like: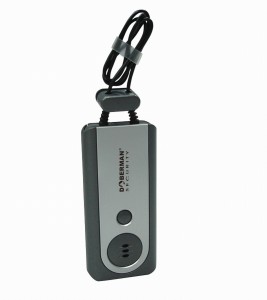 DETECTS VIBRATION & DOOR ENTRY – Secures virtually any door or surface, keeping your bag or room safe
ULTRA PORTABLE & LIGHTWEIGHT – You wont be weighed down by it.
Sensitivity settings can be adjusted perfectly to prevent false alarms due to minor vibrations
POWERFUL 100DB ALARM – Alerts you of any intrusion and break in, loud enough to wake you and the others around you!
EASY INSTALLATION – Simply hang the unit over the doorknob or place on top of your bag

INCLUDES 2 BUTTON CELL BATTERIES
Things we like: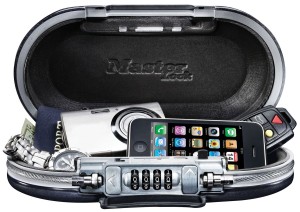 Durable, water resistant construction protects valuables
Set your own combination for easy recall and convenience
Shock absorbing foam lines the safe's interior to keep items protected during transport
Ear bud/charging cable access port, listen to music or charge devices while securely stored – for example when sleeping on a bus or train!
Lock up and lock down integrated cable can be used as a handle or for securing the safe
So there you have our top 5 products to ensure you a safe and theft free experience when travelling.  These are all to give you peace of mind so you can go out and experience all the world has to give without worrying about your possessions.
Thank you for your time.