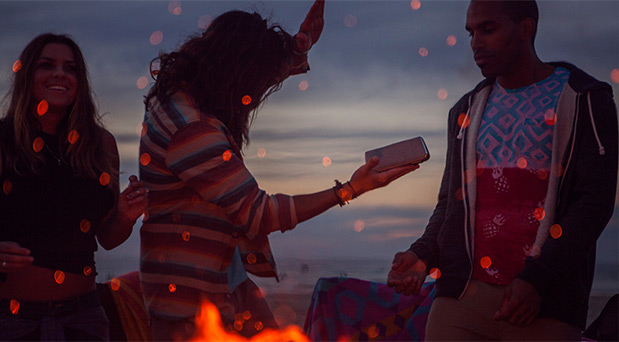 Everyone loves music, it can create a mood, start a party, soundtrack a memory.  So where better to have your music with you then when you're off exploring the world?
A portable bluetooth speaker can brighten up any dull hostel – making you the most popular member of the dorm, it can give way to spontaneous forest parties – dancing in between the trees at night time, or provide even more relaxing sounds on the beach – falling asleep on the sand to a bit of Moby.  Those reasons and many more is why we recommend every backpacker carries one of these little devices with them.  So see our list below of our five best bluetooth speakers for camping and backpacking.
TOP 5 PORTABLE BLUETOOTH SPEAKERS FOR BACKPACKING AND CAMPING
We have started with a great robust all rounder, this device can do it all!
Bluetooth V4.0 with 2*5W insanely loud super bass speaker – no pin is required to pair so all your friends can easily take over as DJ and its loud enough to have a great party!
Waterproof, dustproof ,shockproof, rugged design for harsh environment – perfect for backpackers and campers, safe on the beach, around the pool or on a cliff side!
POWKER = Power bank + speaker + flash light , 20 hours none stop music – Extremely versatile, not only will it charge your other USB devices it also functions as a flash light! Allowing you to find your way back home after the party!
Built in Mic for hands free speakerphone – meaning you can have easy group calls with your friends back home.
MP3 SD card slot ; Audio cable connection – youre not tied to having to use your phones bluetooth for music, any SD card or music player can connect directly! Audio cable is provided too!
This is possibly our favorite, amazing sound in a sturdy package from a brand you can trust!
Key features:
Wireless Bluetooth streaming – wirelessly connect up to 3 smartphones or tablets to the speaker and take turns playing the role of DJ, a great way to get to know each other.
Speakerphone – take crystal clear calls from your speaker with the touch of a button thanks to the noise and echo cancelling speakerphone
Splash proof – splash proof means no more worrying about rain or spills; you can even clean it with running tap water!
Lightweight – weighing only 1 pound you wont even notice this in your backpack!
JBL connect – build your own ecosystem by connecting multiple JBL connect-enabled speakers together to amplify the listening experience, so if any of your backpacker friends have one you can get your own sound system going!
JBL bass radiator – hear the bass, feel the bass, and see the bass.
This is an amazing budget all rounder, it is packed with features!

Here are some of the things we like:
High efficiency mono crystalline Solar panel with internal 1200MAH Li-ion battery – No plug socket? No problem? Keep this thing going all day with the power of the sun!
Daylong Playtime, Fast Recharge – Internal battery provides 6 hours for listening long into the night, and 20 hours call duration Charged at sunny 80-120MAH / hour.
IPX4 rated – Rugged ,Dust-Proof and Water Resistant make it suitable for outdoors – safe for you to host your music anywhere!
Silicone case and stainless steel bracket, 360° rotation, great for any outdoor activity, or just lounging by the pool – easy to attach or place anywhere.
Latest Bluetooth Technology – Connect your device in 3 seconds; Outstanding connection range of up to 33 feet. Full,High-Def Sound – Enjoy an impressively crystal clear sound quality and robust bass realized through a 5W audio driver and passive subwoofer.
This is our premium choice! Premium sound from Bose packaged in an elegant premium case.
Clear, full-range sound you might not expect from a compact speaker – this sounds just as good as professional speakers you would get at home, sure to impress your fellow travelers.
Voice prompts make pairing your devices easier than ever, the device easily talks you through the connection process.
It's compact and light enough (1.25 pounds) to take along even when you're traveling light – perfect for us backpackers and campers.
Up to 8 hours of music from rechargeable lithium-ion battery – battery long enough to get you through the night, and well into the morning.
Wireless connection to your smartphone, tablet or other Bluetooth-enabled device, compatible with all your devices.
This is our final choice, its a perfect, feature packer, all rounder on a great budget price!
Here are the things we like:

All-Weather Adaptability: Dust & Splash proof in accordance with IP64-Protecting against total dust ingress and water spray from any direction. Great for pool side, beach, playground, camping, climbing, hiking. 
Full-bodied Rich Sound: Room filling sound projected wirelessly from dual top quality 5W (total 10W) acoustic driver; feel its incredibly silky smooth highs, clear crystal mids and tight solid lows anywhere; also works well with CD players or MP3/4 players via included 3.5mm audio cable
One-Click flashlight: One-click to turn on the side flashlight, used as a spare flashlight for outdoor enthusiast to light up the night in case of a power outage or spice things up during a bonfire party; Sturdy carabiner for you to clip it onto your backpack, bicycle and more
12 Hours' Playback Time: A 2200mAh high capacity rechargeable Li-on battery allows non-stop music from dusk till dawn. Automatically power off when no music being played over 10 minutes
So there you have it! All the devices discussed above are all lightweight and will easily fit into your backpacks.  So what is stopping you from adding a soundtrack to your adventures? A sure fire way to brighten up any day (or night), invest in a portable bluetooth speaker now 🙂