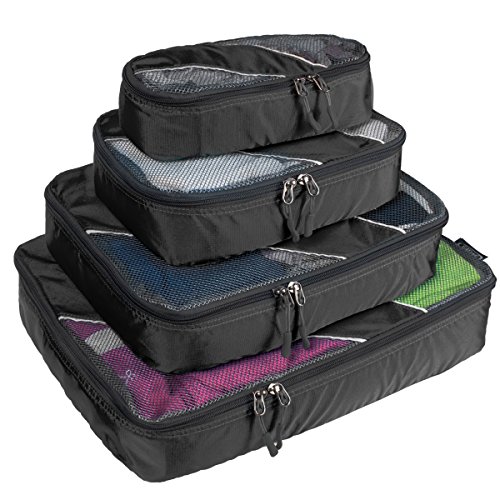 This backpacking essential is often overlooked, but having the foresight to purchase some packing cubes before you go backpacking or camping can really improve your trip backpacking around Europe, Asia and the world!
We recommend that every backpacker takes packing cubes with them on their traveling adventures.
What are packing cubes?
Basically, packing cubes allow you to compartmentalize your backpack.  Each packing cube is lightweight seal-able cube that allows you to store clothes, toiletries or whatever!
Why do I need a packing cube?
Space! A packing cube can be compressed – much in the same way you can compress your sleeping bag, or backpack with draw strings.  The benefit of this is that once you have compressed each packing cube it saves you a great deal of space in your backpack – up to 50% in some cases!  This space can then be used for more gadgets, souvenirs and snacks!
A packing cube allows you to save time when retrieving things from your backpack, no longer having to dig to the bottom of your backpack to find what you need, with a packing cube you just look for the cube you need, pull it out and retrieve the item you need.
Five top packing cubes for backpacking and camping!

This is our favorite all rounder set of packing cubes.  Here is why:
Five cubes (1 Small, 2 Medium and 2 Large Cubes) let you compartmentalize similar size items and provide optimum utilization of interior luggage space.
Durable – Constructed of high-quality nylon fabric; Both lightweight yet durable with 2 way easy-pull zippers.  Will last the rough and ready lifestyle of a backpacker
Easy to use – Open mesh design makes it easy to locate items – No more hectic searching for misplaced items in the bottom of your backpack.
Organized– Clothes no longer shift in transit! Clothes stay neat and tidy in their own small drawers, no more wasting time packing and unpacking.
A full guarantee – TravelWise 100% Satisfaction Guarantee; Call or email them anytime for support.

This selection comes with a laundry bag!  Here are some other reasons we really like this selection:
4 Packing Cubes – Extra Large( 17.5″ x 12.75″ x 4″) Large (13.75″ x 12.75″ x 4″) Medium (13.75×9.75×4) Small (11″ x 6.75″ x 4″)
Zipper closure – Hard wearing – keeps your packing cubes safely and tightly closed.
Made From High Quality Water Resistant Nylon Material to Withstand the Wear and Tear of Traveling
X Design with Double Stitching – Creates a Strong Reinforced Lid to Hold Your Clothes in Place and Prevents the Bag Material in the Middle to Fold Upwards.  Won't get damaged in your backpack.
4 inch Deep Design Allows You to Fit All The Clothes You Need into the bags – More options for clothes to wear whilst backpacking!
Laundry Bag Included to Help Separate your Dirty Clothes and stop them contaminating your clean clothes

This is our selection for a smaller set, perhaps for the smaller backpack.  Here are some other great features:
Three cubes included: Large: 17.5 x 12.75 x 3.25, Medium: 13.75 x 9.75 x 3, Small: 11 x 6.75 x 3
Techlite Diamond Nylon – Light and durable, won't be weighing down your backpack.
Zipper closure – Includes premium YKK zippers with corded pulls for a lifetime of opening and closing, don't need to worry about these cubes not surviving your trip.
Highest construction standards utilized and interior seams fully finished for durability
Guaranteed for life under the eBags Lifetime Warranty
This is our all in one set! Plenty of cubes and a laundry/shoe bag included! Here is what else we love:
6 packing cubes set: X-Large (16.5″ * 11.8″ * 3.5″), Large ( 13.2″ * 13″ * 3.5″), Medium ( 13.2″ * 9.1″ * 3.5″), Small ( 11″ * 6.5″ * 3.5″), Shoes Bag ( 15.4″ x 9.8″), Large laundry bag ( 12.2″ x 9.8″).
Superior material: Designed with ripstop technology, water resistant nylon with finished interior seams and breathable mesh-top panels, the packing cube organizer offers not only important ventilation, but also at-a-glance viewing for easily identifying what's inside, which can help you save time and stress. Even more, the soft mesh won't damage delicate fabrics, so you can arrive in style without having to worry.
Very well constructed with solid zippers, which are excellent gift for your friends, family or yourself.
Convenient: These packing squares enable you to fit more into your luggage and arrive with wrinkle free clothes, also perfectly fit into most airline carry-on suitcases, tote, weekender, backpacks and duffel bags.
These packing cubes are in 100% brand new and high quality from OXA USA store, which are backed by a manufactures 100% lifetime guarantee.

This is our all in one budget choice – It has everything you could need at a great bargain price!  Here are the reasons why we recommend this selection of packing cubes:
6pcs packing cubes and a laundry bag
Three boxy organizers have handles for carry.  They are washable, prevent bacterial growth, smell reduction. Not Just for Clothes:  Also make the perfect travel tool for makeup and beauty products, cosmetic bottles, toiletry kits, pantyhose, delicates, small purses, and even camera accessories
Made of polyester and soft nylon mesh. Mesh top panel for easy identification of contents and ventilation. They are light weight and hold a lot of items
Keeps clothes and small items neat and safe in one bag. It's very convenient and much easier to pack anything from clothes to souvenirs.
High quality and each of the products are checked one by one before delivery.
There you have it, our top five packing cubes for backpacking and camping around europe, asia, the world or wherever! We hope you have found these useful and they allow you to get much more out of your backpack.
What are your top packing tips? – Please share in the comments below. Thank you.