So you decided to do the Annapurna Circuit, amazing!
Trust us – You will not regret it.  Its a beautiful trek with lots of exciting challenges and views along the way: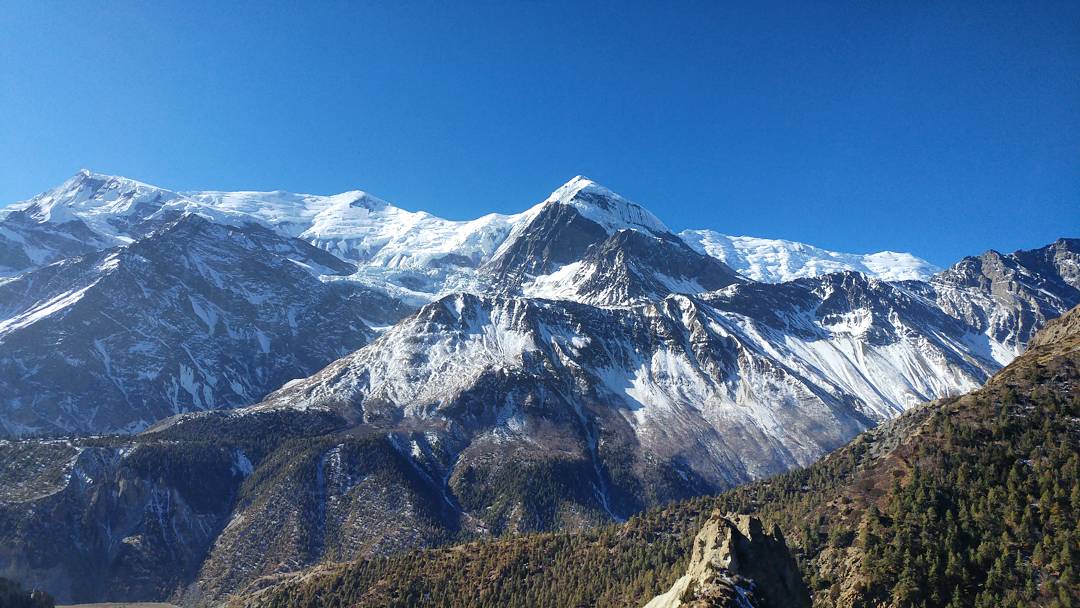 So you are here to find out what you need for your backpack for the Annapurna Circuit?
Apart from the obvious essentials such as Walking boots,Warm Clothes and a Backpack, you may be wondering what else will you need for the Annapurna Circuit? What are some extra essentials for the Annapurna Circuit?  The five items below are often forgotten from peoples shopping lists when completing the trek around Annapurna in Nepal, but trust us, with these five essentials your trek around Annapurna will be so much more comfortable and enjoyable.
So please read on and find out just what else you need to stuff into your backpack to conquer Annapurna!
You will be carrying you camera, mobile and whatever other gadgets you have the strength to take on the trek.  However, on the Annapurna Circuit power outlets aren't always available where you are staying – a lot of guesthouses rely on temperamental solar panels and power cuts are very frequent too.  Therefore we recommend you take with you a power bank so you don't have to play a charge lottery every evening.
Our recommended power bank is the iMuto 20000mAh – It has enough charge to allow you to charge your devices pretty much every evening, its robust and also includes a flashlight to help you navigate your way around the guesthouses in the evening! What more could you need? Carrying it also means you don't have to worry about carrying a plug converter, saving you more weight in your backpack.


If you want some more recommendations then please read our power pack post.
As you get higher up the Annapurna Circuit, water gets much more expensive. Our tip is to use Water Purification tablets, by doing this you will save lots of money.  You basically fill up your water bottle from any tap, or even a running stream / waterfall to truly feel like Bear Grylls! Then you drop one or two pills in, wait thirty minutes and then you have some perfectly drinkable water – without breaking the bank!

The Water Purification Tablets we recommend are Aquatabs Water Purification tablets.  They come in a pack of 100, allow you to drink your water in 30 minutes and don't have that horrible metallic taste you get with other water purification tablets.  They are also really light and compact so you won't notice them in your backpack.
If you want more information on water purification then please do check out our water purification post.
No matter how tough or experienced you are, you will get blisters on the Annapurna Circuit trek. Walking for up to 12 hours a day for two weeks is going to be quite the strain on anyone's feet!  Thats why we recommend you invest in some blister plasters to take the pain away.

We recommend Compeed Blister Relief, this will provide you with a variety of different plasters for all the weird and wonderfully different sized blisters you will collect on the Annapurna Circuit Trek, they are also very light too so won't be a burden on your backpack as you walk.
We did a post on essential health supplies whilst backpacking, check it out here.
The correct way to do the Annapurna Circuit is by packing light, the easiest way to do this is by packing few clothes.  The downside of having few clothes though is that you will be wearing dirty/smelly clothes regularly.  This doesn't have to be the case.  With a clothes detergent bar you can sink wash your clothes (particularly socks) every evening, so that you can have a clean item of clothing to wear the next day.

We recommend packing a bar of Jamaican Blue Power Laundry Soap. It comes in a pack of three, but trust us – One is more than enough.  It will clean all the smell and dirt out of your clothes and leave everything smelling nice and fresh.  It also saves you having to pay the expensive laundry costs you will find further up Annapurna.
A head torch is essential for the Annapurna Circuit! Not only will you need it when you conquer Thorong La Pass, but you will also need it during the evenings. A lot of the guesthouses you will be staying at won't always have power, and sometimes the bathroom is located outside, so having a head torch will prove very useful in navigating around.

We recommend the Foxelli USB head torch.  This torch will stay powered for 100 hours on a single charge! If you do need to charge it during the walk you will be happy to hear that it can be charged via USB! (Proving another use for your Power pack).  This torch is also impact resistant and waterproof, meaning it will survive whatever you throw at it during the trek.
There you have it! Our five forgotten essentials for completing the Annapurna Circuit.  If you make sure these five items are in your backpack you will find your trek much more comfortable and enjoyable.
Can you recommend anything else for our readers on the trek?
If so comment below.
Thank you.