Have you considered a hammock for backpacking or camping? It can make the perfect substitute for a tent.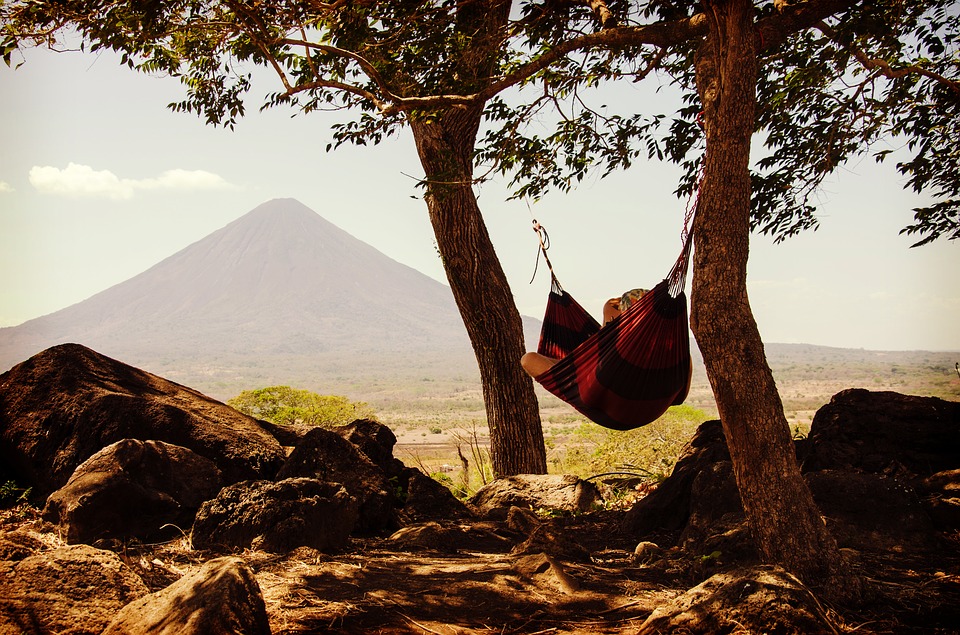 Here are some reasons why we think a hammock can be a better choice than a tent whilst backpacking or camping.
Hammock vs Tent:
Weight – A hammock is much lighter than a tent and takes up much less space in your backpack.  Allowing you to carry much more, or save your precious energy by allowing you to carry a lighter pack.
Comfort– A hammock is much more comfortable than sleeping on a hard/cold floor.  It is also much better for your back.
Safety – A hammock keeps you safe from dangerous animals on the floor – such as snakes and spiders.  It can also protect you from adverse weather conditions – such as flooding.
Speed – Generally, you can set a hammock up much faster than a tent.  Also, its much easier to set a hammock up in the rain than it is to set up a tent in the rain.
Fun – Everyone loves a hammock! They are just much more fun and exciting, who doesn't love hanging out and swinging between two trees?
Now that you have learnt of the benefits of choosing a hammock over a tent we would now like to share with you our five favorite hammocks for backpacking and camping.  We have broken these down into five easy categories:
To learn more about why we chose each of the hammocks read on below:
This is a great value, cheap, introduction to the world of hammocks.
Here are some of its great features and things we liked:
Comfortable – This double hammock fits 2 persons, You can lay down with your friend or loved one and you will still have plenty of room. Features 210T nylon parachute fabric, that provides relaxing support up to 500 lbs.
Lightweight : The backpacking hammock can be used for camping, travel, beach, yard. You will have everything you need for quick and easy hanging setup.
Quick – It will take less than 3 minutes to hang your camping hammock on a tree or nearby objects using the ropes, strips and carabiners
A full package – Includes one double camping hammock 118"(Long) x 78"(Wide), two ropes(each 137"(Long)), two tree friendly straps (each 52"(Long) x 1"(Wide)) and two solid steel carabiners
Guarantee – If you don't like your hammock, or whatever then Winner Outfitters will instantly refund you – No questions asked.
This is the most popular choice on Amazon, just check out some of the reviews, people love this hammock!  This is made by a company that really cares about its customers, and in turn has resulted in them producing an extremely comfortable and popular hammock.
Here are some of the key features:

Size – 10 ft. long x 6 ft. wide of pure magic. Each hammock weighs 1 1/2 pounds meaning you can easily carry this in your backpack.
Comfort – Made from special top quality 75D Nylon Taffeta with a 210 thread count. That means it's soft…very soft, like hotel bed sheet soft.
Strong – The 75D nylon material holds up to 500 pounds legally and has been tested for 900 pounds. Meaning you can sleep comfortably knowing that this hammock won't rip or break on you.
Full package – Comes with nylon end straps for extra strength, two…count it, 2 carabiners and two 10ft long tactical grade ropes. 
Money back promise – Bear Butt offer a full guarantee and refund for life, this goes to show the faith they have in this product.
This is our EXTREME choice, this is the hammock you need for extreme weather and cold.  So we recommend this one to our most adventure prone backpackers and campers.
Here is what we like about this hammock/sleeping bag:

5 in 1: Utilize this bag as an UNDERQUILT, a POD SYSTEM, a TECHNICAL BLANKET, a SLEEPING BAG or buy two and make it into a DOUBLE SLEEPING BAG!
Warm – 800 fill power down! Down is natures (and the world's) best insulator.
Light and Small – The

 bag weighs in at 1.7 lbs and can compress to 9 x 7 inches

Premium materials – Ripstop fabrics, 800+ fill power down, YKK zippers and include things like a compression sack and other high dollar features to make this bag ready for any adventure!

Limited Lifetime Warranty – Proving that this is a product you can trust and have no worries of anything going wrong.
This is for the less budget-conscious backpacker or camper.  This is our premium choice, if money is no issue for you then we believe this is the best hammock you can buy right now.
Here is what we like about this premium hammock:

Feature Packed – Includes mosquito netting, detachable rain fly, support ropes, and stuff sack with set up instructions on back.
Great Size – The Safari Deluxe was developed for people who like really big hammocks. This is their deepest, widest and most comfortable hammock for larger people or even for cozy couples.
Well reviewed – Check out the reviews on the Amazon page – People who splashed out on this hammock love it for its comfort and robustness.
Environmentally Conscious –  Includes standard 42″ long "Tree Hugger" webbing straps to protect the bark of trees.
Strong – Features 70D Polyeurethane coated Rip-stop polyester and has a w

eight limit of 350 lbs.
This is our all rounder choice, fundamentally we think this hammock is he perfect balance of great features and excellent value for money.  Basically, we here at Backpacker Sanctuary think this is the hammock you should buy for your backpacking or camping adventure.
Here is why we love this hammock:

Hard-Wearing – Durable quality breathable high tensile 100% 210T taffeta parachute quick dry diamond weave nylon fabric, YKK double tab zip and components triple stitched edge seams rated 400 Lbs.
Comfortable – Big enough for Two and spacious for One. Duo Swing Hammock at 10 ft long and 6 ft wide will provide reliable support ensuring you will stay comfortable.
Mosquito Protection – The unique net design provides an internal space without the feeling of being enclosed or claustrophobic and compatible with most Rain Fly setups.  This 2100 holes per square inch No-See-Um bug netting is premium quality so you can relax bug and mosquito free.
Camouflage – Color designs to blend into your surroundings
Quick – Innovative net system allows for a quick and simple setup complete with FULL set up instruction.
Lots of freebies – Includes Tree Saver straps super strong reinforced polyester filament webbing 1" wide 10 ft long 14 loops (28 combined) with triple stitch tack bars at 3" apart for ultra-fine tune rated at 400 lbs valued at over $25.00 plus a set of 2 mini Aluminum Lightweight no snag carabiners valued at over $15.00 and of course the Duo Swing Hammock with integrated heavy grade no-see-um netting, stuff pouch, compression straps and net rope.
There you have it, our five favorite hammocks for backpacking and camping and please remember this great quote:
Your best ideas, those eureka moments that turn the world upside down, seldom come when you're juggling emails, rushing to meet the 5 P.M. deadline or straining to make your voice heard in a high-stress meeting. They come when you're walking the dog, soaking in the bath or swinging in a hammock.

-Carl Honore
IF you have any hammock tips or other recommendations please do comment below.
Happy Hammock-ing!