Paris is often referred to as "the smallest big city" because it is essentially walkable. There was many a time when my friends and I walked from one arrondissement (neighborhood) across town to another without thinking twice about it. I could even walk from my 14th arrondissement apartment (way out of the way) to the Eiffel Tower in only an hour and a half.
As a visitor to the city of lights, chances are you won't have a vehicle and so will be doing quite a bit of walking. I'd like to share with you a little walking tour I did whenever friends came to visit me. It takes about two hours and gives you a chance to see some of the best sites in Paris. The best time to go on this tour is in the Fall and Winter as it won't be stifling hot and you can catch the Christmas Markets. Nevertheless, you'll enjoy it no matter the season, just make sure to dress for the weather!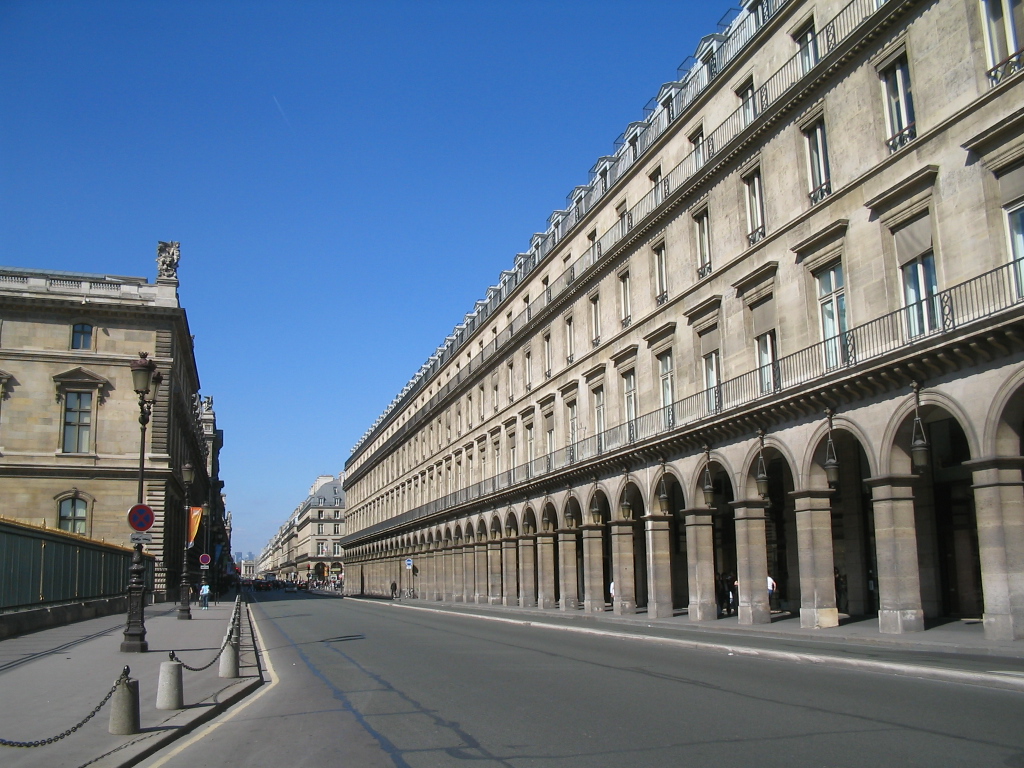 Rue de Rivoli and Angelina
Our tour starts at Rue de Rivoli. To me what stood out the most about this street was the rows on rows of uniform buildings sprawling out as far as the eye can see; it's quite surreal. To get here by Metro take the M1 and get off at the "Tuileries" stop. If you want to do some souvenir shopping, this is the place to do it. The townhouses built by Napolean now are filled with an array of souvenir shops, as well as high-end fashion stores.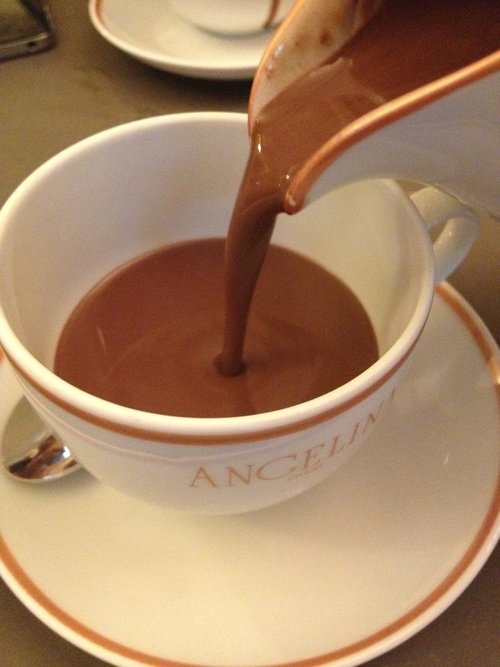 Whenever I took my friends to this area, going to Angelina was a must. The hot chocolate there is known throughout the world as the most decadent in existence. Once you exit the Metro turn right to head West past Rue d'Alger and you'll find the sign for Angelina in the middle of the block. There is typically a line out the door with people waiting to be seated. However, if you just want to peruse their bakery you can walk right in. Their famous African hot chocolate is something you have to try, and they'll gladly give you a to-go cup. I recommend sharing it with your travel buddy, as it is much too rich to finish on your own and you'll save 5 euros. If you have a sweet tooth, then their meringue and whipped cream filled chestnut vermicelli is to die for. However, it may be too heavy for you in which case I recommend picking out a couple of macaroons to go with your hot chocolate.
Jardin Des Tuilieres and the Louvre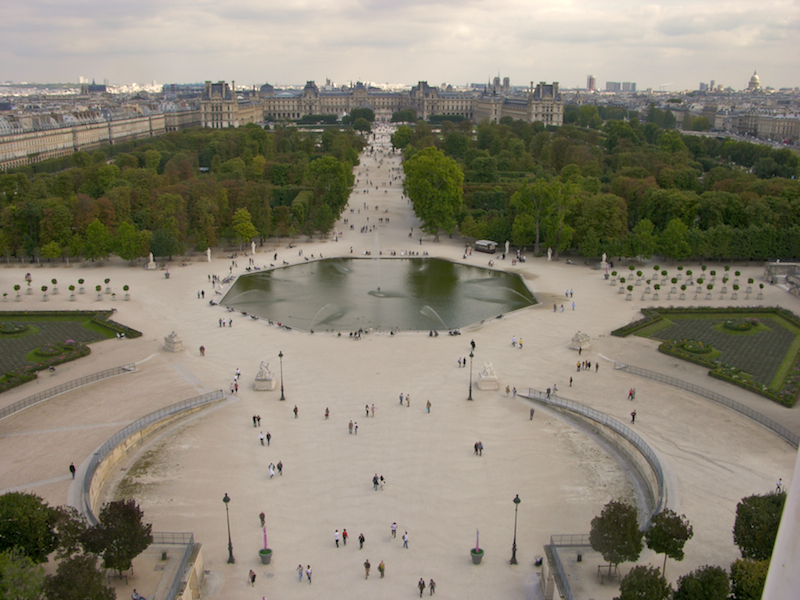 Once you've warmed your hands with some hot chocolate, it's time to do some exploring! Cross the street and find an entrance into the Jardin Des Tuileries just across the way. This is a gorgeous, expansive  garden originally designed by Catherine de Medici in 1564 and turned into a public park after the French Revolution. Every time I came here, it took my breath away. The place is filled with neatly trimmed hedges, flowers, fountains, and statues. My favorite time to wander around is fall as the trees are fire red and orange–so mesmerizing and even peaceful despite the bustle of people around you. Once you've taken in all the marvelous sites of the entrance, turn left to check out the Louvre.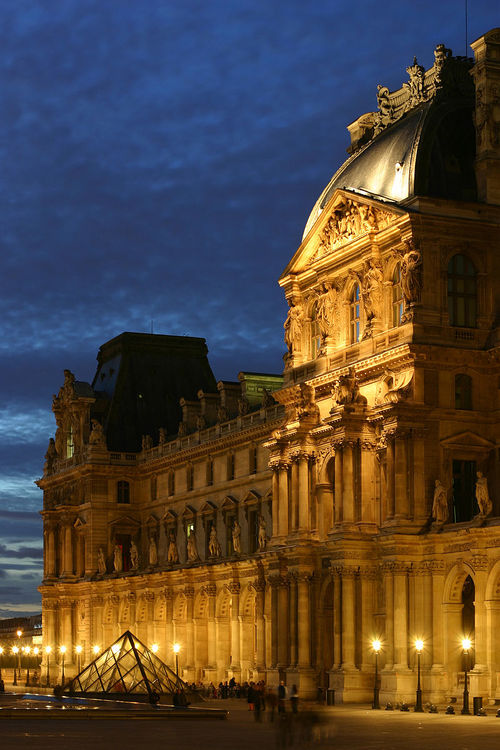 The Louvre has always stood out to me for its strange modern glass pyramid with a lightening bolt down the middle contrasted by the beautiful traditional architecture of the museum itself. Tourists often like to take pictures at a distance with their hands touching the tip of the pyramid as if pinching the top. I make fun of these tourists, but I don't blame you if you want to try it.
At this point, you may want to enter the Louvre to check out the artwork. However, in my opinion, that should be a whole other excursion so you can take your time with it.
Once you've taken in and marveled at the grand architecture of the Louvre, it's time to continue your tour. Turn back around and enter into the Jardin de Tuileries once again. However, this time, keep walking through the wide path lined with trees until you come to a pond with green seats scattered around it. I liked to sit for a bit there and take in the view as well as rest my feet.
Christmas Markets and Avenue De Champs D'Elysée
If you are visiting Paris during Christmas, then I highly recommend checking out the Christmas markets. I've never felt more holiday spirit than when I was living in Paris. Every street is lined with Christmas lights, trees, and decorations. However, the Christmas market is something else entirely.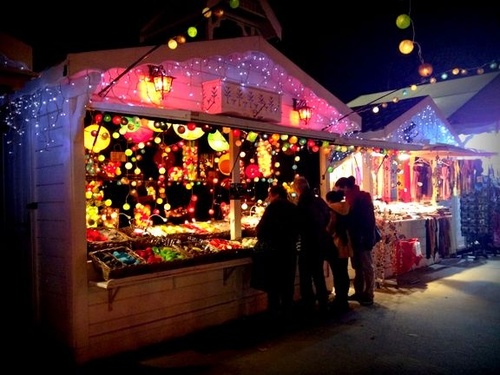 Right after you exit the Place de Tuileries and walk around Place de La Concorde (don't forget to check out the Egyptian Obelisk) continue to Avenue des Champs-Elysée to indulge in some hot, spiced wine and look at all of the Christmas gifts, trinkets, and food vendors lining the streets.
During the holidays, I found myself there at least once a week. It still gives me a warm fuzzy feeling thinking about it–hot cups of wine spiced with cinnamon in our hands, spending hours strolling the market streets and looking at all the booths selling everything imaginable from handmade sweaters to cheap souvenirs. I have never felt so festive and filled with Christmas cheer as I did walking down those streets, listening to various carols blaring from speakers hoisted on to lampposts and cajoled by vendors wanting me to buy their shiny objects.




However, even if it's not around the holidays, you'll still love walking down this avenue. From here, you have three options depending on how you feel. If you're tired, you can get on the Metro at Champs-Élysées-Clemenceau and head back to where you're staying or if you are enjoying your walk on Champs you can continue it, which will take you through the Champs D'Élysée's famous shopping district and eventually to the Arc de Triomph.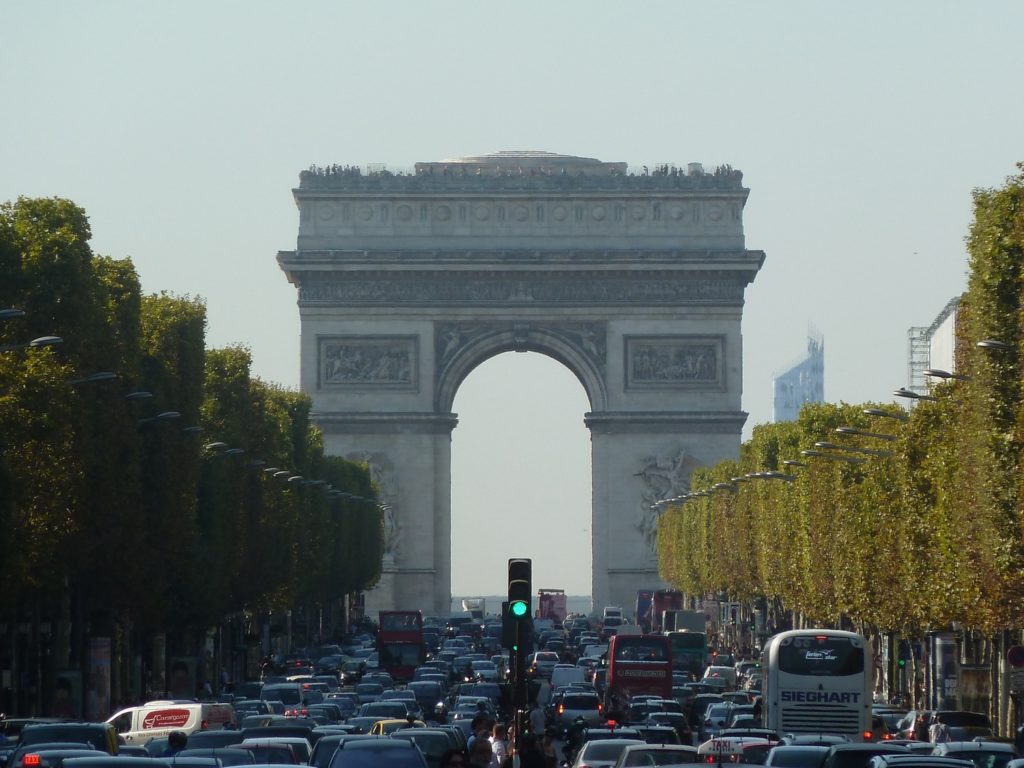 If you'd like to expand this tour to see the Eiffel Tower, then you can walk it (which I did many times, although it will take you about 27 additional minutes). Otherwise, you can continue your walk down Champs D'Élysée to get on the  M9 at Franklin D. Roosevelt take it to Iléna and walk through the Jardins du Trocadéro to the Eiffel Tower.
The Eiffel Tower
For the intent of this tour, I'm going to assume that you a) want to see the Eiffel tower and b) want to walk to it. About 75% of the time I did this tour, my friends chose the latter option, and so it is one I'm sure you would enjoy as long as you're up for it.
From Avenue des Champs-Élysée turn left unto Avenue Winston Churchill and walk towards the Seine. From here you'll see Pont Alexandre III (the bridge), which is one of my favorite sites. I love the gilded, shiny nature of this side of Paris, which comes out in the gold painted bridge of Alexandre III.
There is also a fantastic nightclub called Showcase just under the bridge that I went to several times.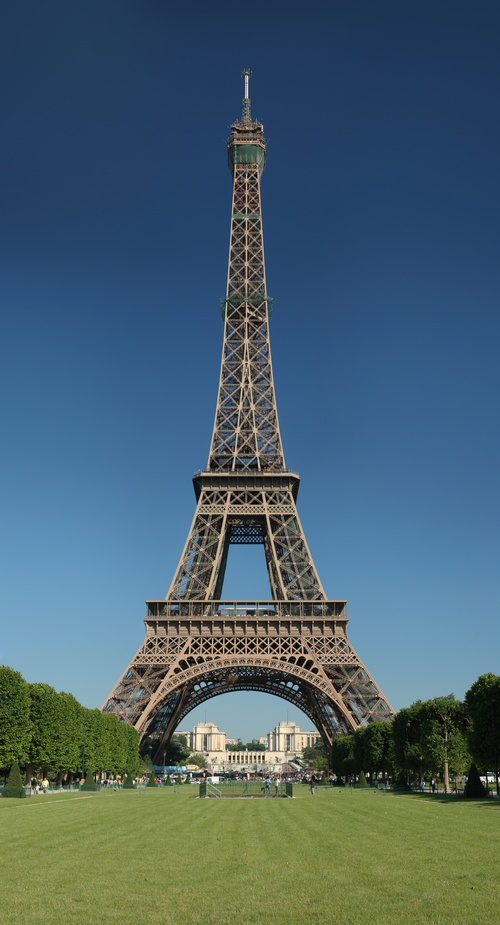 Once you've made it across the bridge, the easiest thing to do is to simply look up and head towards the Eiffel Tower. You'll be able to see it for most of the way there and so can easily use it as your north star. However, you'll pretty much be following Quai D'Orsay until it turns into Quai Branly. You'll pass by the Musée De Quai Branly (museum of Quai Branly), which has moss growing all the way up its wall. I loved running my hands through it.
Once you've made it to the Eiffel Tower then congratulations! You've officially walked through a substantial chunk of Paris. If you timed it correctly, you can make it to the Eiffel Tower just at nightfall so that you'll experience its gorgeous sparkling lights that occur on the hour. If you are feeling peckish, then there are plenty of dining options around the tower. Surprisingly, many of them are not as over-priced as you'd think. If you're ready to head back to your hotel, then keep in mind that finding the Metro is a little convoluted, but you need to be on the look out for Bir-Hakeim, which is two blocks south of the tower.
That concludes our walking tour. I hope you'll enjoy it as much as I did. I cannot count on two hands how many times I did it, and it never got old.
This was a post by guest contributor Alizah.
She has kindly offered to answer any questions you may have about Paris here: [email protected]
Also, Please do make sure to check our her breathtakingly beautiful instagram: @littlesparkofwanderlust
And follow her on more of her adventures here: http://www.littlesparkofwanderlust.com/